A Child's World, Family Child Care Services of Niagara

In A Child's World, we are always trying to improve our services to meet and exceed the standards and needs of our community. Our mission is to provide quality early learning and child care and it is organized around four foundational conditions that are important for children to grow and flourish: Belonging, Well-Being, Engagement, and Expression.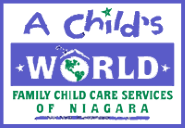 Jenny T
Parent
We have had an excellent experience the past 2 and a half years, including through the pandemic. The programming was engaging, the staff was warm and welcoming and the access to the facility was safe and comforting. ACW is top notch child care.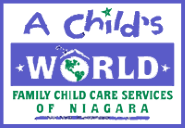 Cindy B
Parent
I absolutely would recommend A Child's World to my family and friends. This centre has been amazing for me and my children. The employees always care for my children as if they were their own! We always felt welcome and well taken care of, like we were part of a big family!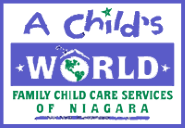 Maddison S
Parent
My son has progressed greatly since attending A Child's World.